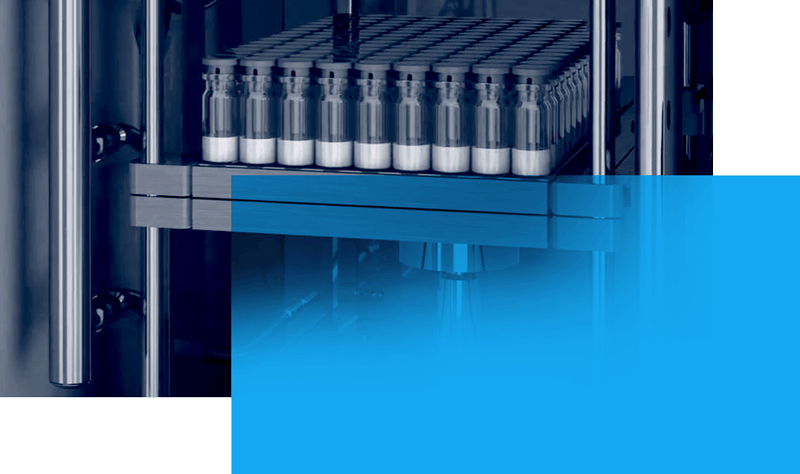 Freeze Dryers and Systems
Pharmaceutical freeze dryers and complete freeze dryer systems with automatic loading and unloading.
As a fill and finish process, freeze drying plays a key role in aseptic pharmaceutical and biotech production. Lyophilized products retain their original properties and, by adding water or a suitable solvent, they can be easily and quickly reconstituted. As such, freeze drying is widely used as a preservation method. Each product requires specific process parameters to be identified and optimized, including the initial freezing process, which is of great importance for the final product structure. The shelf temperature and the corresponding sublimation pressure during primary drying determine not only the drying time, but also the quality of the final product.
Typical quality aspects are original property retention, cake appearance, reconstitution time and shelf-life. The freezing and melting behavior of the product is tested in the laboratory to establish the correct outcome from the start. These test results then form the parameters for further pilot testing to develop the freeze-drying process, reduce time-to-market and ensure effective scale-up to full production.
We deliver Automatic Loading and Unloading Systems for freeze dryers and integrate isolators and CIP-skids into a complete freeze dryer system. Our range of supplies and services comprises pilot-scale freeze dryers for R&D purposes and small production batches; industrial-size freeze dryers; and complete freeze dryer systems including Automatic Loading and Unloading Systems.
Questions about our Freeze Dryers?
Get in contact with our experts.
Equipment Solutions by application
Cleaning
Compact cleaning machines for intensive and thorough wet cleaning of glass and plastic objects.
Sterilizing
Sterilizing tunnels for drying, sterilizing and depyrogenizing glass containers using an unidirectional vertical air flow.
Filling & Capping
Modular Dosing Machines and Systems for processing vials, ampoules, cartridges, syringes and other containers.
Autoclave
Autoclaves and steam sterilisers from 25 litre laboratory benchtop autoclaves up to 8,000 litre chamber volumes.
Labeling
Labelling machines for bottles, vials and similar stationary objects with self-adhesive labels from the roll.
Containment
State-of-the-art Isolators with integrated catalytic converters, highly efficient filter cartridges for fast decontamination cycles.
Robotic Handling
Robot-based automation solutions (Smart Factory) and future predictive maintenance concepts.
This might also interest you