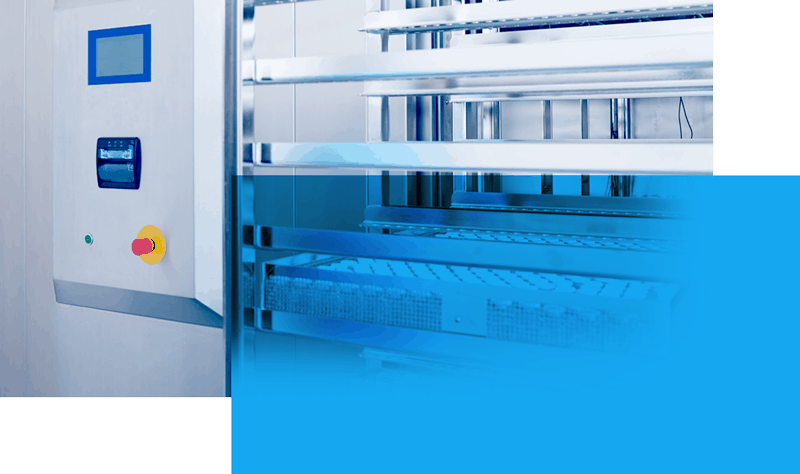 Autoclaves and steam sterilizers
Autoclaves and steam sterilisers from 25 litre laboratory benchtop autoclaves up to 8,000 litre chamber volumes.
Our range contains of wash and wastewater sterilizers for laboratory applications as well as autoclaves for special applications, such as high-pressure autoclaves and special autoclaves to produce radiopharmaceuticals. It consists of square sterilization chambers, which are extremely efficient. This results in shorter batch times with simultaneous energy savings. The angular chamber ensures optimum utilization of the chamber volume. Compared to a round chamber with the same chamber volume, the loading capacity is approx. 36 % higher.  Chamber, double jacket, and steam generator are completely made of corrosion-free stainless steel 1.4571/AISI 316Ti. In addition, the housing is silk matt brushed for easy cleaning.
Questions about our autoclaves?
Get in contact with our experts.
Equipment Solutions by application
Cleaning
Compact cleaning machines for intensive and thorough wet cleaning of glass and plastic objects.
Sterilizing
Sterilizing tunnels for drying, sterilizing and depyrogenizing glass containers using an unidirectional vertical air flow.
Filling & Capping
Modular Dosing Machines and Systems for processing vials, ampoules, cartridges, syringes and other containers.
Lyophilization
Pharmaceutical freeze dryers and complete freeze dryer systems with automatic loading and unloading.
Labeling
Labelling machines for bottles, vials and similar stationary objects with self-adhesive labels from the roll.
Containment
State-of-the-art Isolators with integrated catalytic converters, highly efficient filter cartridges for fast decontamination cycles.
Robotic Handling
Robot-based automation solutions (Smart Factory) and future predictive maintenance concepts.
This might also interest you